An exceptional place to receive and share
Your journey begins 30 kilometers south of Bordeaux, France. Between the edge of the forest of the Landes de Gironde and Garonne, you will drive on the Sauternes Wine Route. Sauterne is one of the most famous wines in the world, and this Wine Route is the only one that gathers Grands Crus that are classified in three colors of wine. 
You will certainly cross the Ciron, also called ''la rivière des Châteaux'', which flows into the Garonne and contributes to the biodiversity of the region.
Each morning in autumn, the fog rises in the valley until it reaches the vineyard and wets the ripe grapes. The sun does the rest, the botrytis can then settle on the grapes to bring out the noble rot, so precious for the aromatic concentration of Sauternes.
Once you arrive at your destination in front of the castle's vineyard, you will start your visit by discovering a beautiful group of buildings that are part of the region's heritage treasures as well as a 25-hectare wooden fence park. In addition to the 2500 m2 of farm buildings and the numerous staff accommodations, it includes 1000 m2 of reception buildings.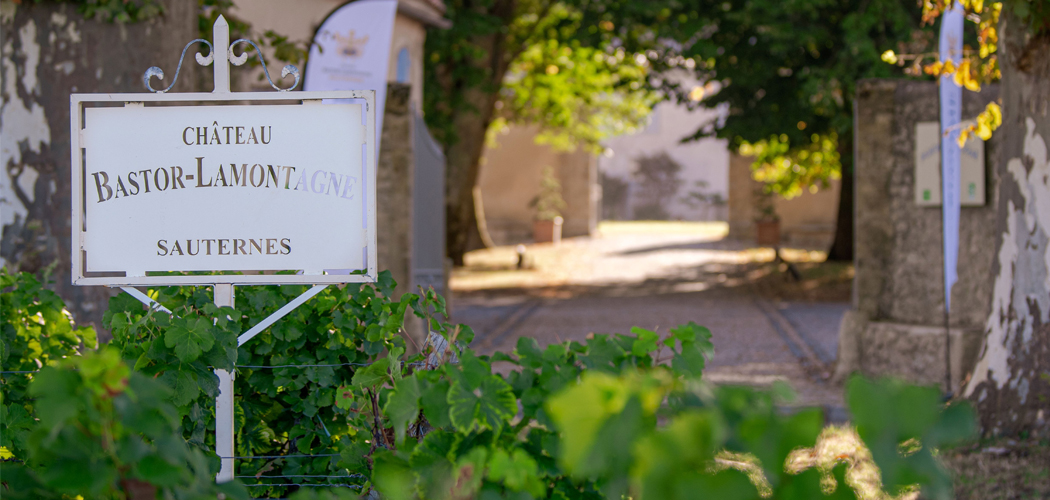 From the central courtyard, surrounded by farm buildings, a gate gives access to the Cour d'honneur, bordered by the castle and the reception hall. This main courtyard opens onto a 5-hectare park surrounded by a forest. 
The castle is a large 18th century Carthusian-style building, mainly ground floor with a partial upper floor. The facades are decorated with cornices, sculptures and pediments in freestone, with bas-relief and coat of arms. The central part of the castle, including its vast hall and monumental staircase, has been renovated. In the south wing of the castle, you will find downstairs a large reception room of 445m2 that can already accommodate 150 people. 
Finally, you will discover the secrets of Sauternes wines from the vineyard to the tasting.
Take care of yourself, 
The Château Bastor Lamontagne team
Opening hours : 
Monday to Friday : 9 am - 12 pm and 2 pm - 6 pm
Saturday : 10 am - 1 pm and 2 pm - 6 pm